Acquiring new customers is great, but what keeps the restaurant afloat are repeat customers. Besides being familiar faces, your regulars are also your top and most loyal customers. Most of the time, they spend more money than other restaurant guests and tell others about their experiences at their favorite restaurant. Based on a study by Bain & Company, increasing customer retention by just 5% boosts profits by 25% to 95%.
So, if your business strategy is solely focused on attracting new customers, maybe you are missing out on a valuable opportunity. We came up with four solid customer retention strategies that will keep people talking about and coming back to your restaurant. Check them out!
1. Improve dining experience
The probability of a customer returning for a second visit depends on their first impression and experience with your restaurant. Asking for your customers' feedback will put your business in a better position to serve them better. Once they have completed dining in your establishment, be sure to ask for as many details as possible in your digital survey that is accessible in your branded mobile app or through a dedicated web view.
Furthermore, when employees feel valued, they are more likely to perform well. Customer service can be improved if your staff is happy and will reflect in their performance. On the other hand, unenthusiastic staff can make it uncomfortable for guests, giving them a bad impression, and may choose not to return to your restaurant.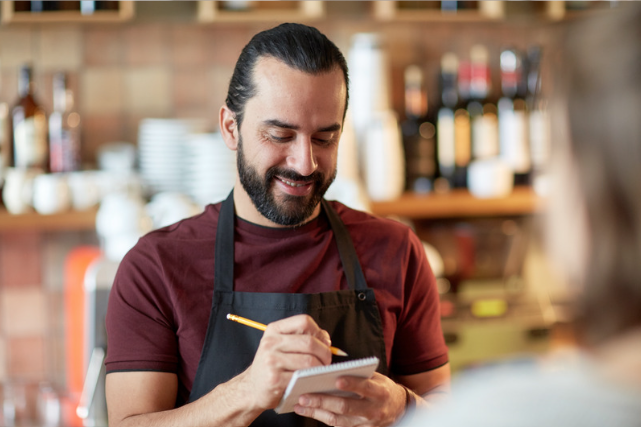 2. Introduce seasonal menu items
Incorporate seasonal product offerings into your existing menu positions your restaurant to stand out in a highly competitive industry. Although a signature dish or two on your menu is always a good thing, it is essential to keep in mind that your food options should be regularly updated, allowing your regulars to experience something new and unique from time to time.
Limited-time deals and offers also create a sense of urgency and encourage your customers to visit your restaurant more often than they normally would. As your guests learn they may only have a few changes to seasonal products, they will be eager to try the latest menu. It is important to communicate with your guests about new food and beverage offerings to keep them engaged with your business.
3. Make payments easy and convenient
As technology continues to play a crucial role in the F&B industry, we're continuing to see the popularity of contactless payment methods. A 2020 Mastercard study shows that 51% of American adults are using at least one form of contactless payments. All they need to do is to simply tap their debit/credit card or mobile wallet in the proximity of an RFID machine to complete the transaction.
Meanwhile, ensure that you also provide an easy and seamless online ordering experience for your customers until they reach checkout. There should be a variety of payment options available to accommodate. As a result, this will lead to greater customer satisfaction and these customers will continue to order from your restaurant, either on or off-premise.
4. Encourage customers to join your loyalty program
Without a doubt, rewarding customer loyalty is a must to optimize customer retention. Once you've won your visitors over with your signature food and drink options, it's time to give them something special by encouraging them to sign up for loyalty to give them reasons to stick around.
Como is a data-driven customer engagement and loyalty solution that helps restaurants to create the best loyalty programs and handle customer data effectively. For example, in your loyalty program, you can set up a points shop to motivate customers to keep dining in your restaurant for a free appetizer or dessert. You can also add fun to your guests' experience by having them participate in your scratch and win or spin the wheel.
Take advantage of your loyalty program to drive customer retention by offering incentives to get first-timers onto the menu for a second visit or putting together exclusive VIP events to make your most valued guests feel special. Understand your diners' preferences, and design your loyalty program accordingly.
To conclude, getting repeat business to your restaurant isn't always easy, but there is a variety of strategies you can leverage to retain your best customers. From improving your customer service to motivating your customers to join your loyalty program, these are some of the best ways to earn their trust and will likely turn them into advocates for your business.