December is finally here and shoppers are busy looking for the best deals and holiday inspiration across online and offline platforms, making it a profitable time for F&B and Retail owners alike.
The National Retail Foundation (NRF) forecasts that holiday retail sales during November and December will grow between $942.6 billion and $960.4 billion in 2022, with the average holiday expenditure per person reaching $1,802.
Check out these 10 must-know statistics to gear up your store for the busiest shopping season of the year!
1. Experts forecast mobile commerce sales to reach $116.98 billion this year. 
During the 2022 holiday season, mobile commerce sales are expected to hit $116.98 billion, up by 20.4% from the previous year. This figure illustrates the importance of online shopping today and highlights that brands should ensure that their website or branded app is optimized and user-friendly to provide their customers with a seamless shopping experience.
2. 54.5% of buyers want to see the product before purchasing it.
In spite of the rise of online shopping, more than half of the respondents agree to shop in brick-and-mortar stores to view the products before purchasing them in case of any damage or to assure product quality. Invite people to shop for any of their holiday needs in your store by adding eye-catching decorations that go well with the Christmas season. Another option is to allow online customers to return the product for free if they are not happy with it to remove any barrier to the purchase.
3. After searching online, 76% of mobile shoppers change their mind about where to buy.
Customers can change their minds if they find a competitor with a much attractive offer while browsing on their devices. Keep your brand on top of your customers' mind by sending in-app or text messages on your holiday offerings they don't want to miss out on!
4. During the holiday season, 49% of shoppers prefer brands who send personalized content or offers. 
Almost half of consumers (49%) are more likely to engage with brands that send customized content or offers. Prioritize quality over quantity and treat your customers to unique experiences and rewards to make them feel that you care. So, check your Como analytics to personalize your communication, offers, gifts, and coupons depending on your members' preferences and purchase history! Don't forget to call them by their name too!
5. 87% of Gen Z customers use social media for holiday shopping inspiration. 
Social media platforms like Instagram and TikTok are growing in popularity as sources for their holiday shopping inspiration, especially among Gen Z consumers. Promote your seasonal offerings and campaigns across your social media channels ahead of time to drive traffic and motivate early shoppers to drop by your store. 
6. 79% of consumers will seek advice from their family and friends before purchasing holiday gifts.
Word-of-mouth marketing helps businesses build a positive brand image and extend market reach as customers who recommend brands are perceived as trustworthy. Grab this opportunity to give your existing members the chance to refer your brand to their friends and family members by creating a referral program. For every friend that joins, reward members with a seasonal item, gift, or bonus points as an incentive to invite them. Create a community of loyal customers who will be your ambassadors and speak up on your behalf.
7. In 2022, retailers can expect 18% more social messages during the holiday season.
It is predicted that retailers will receive 18% more social messages during the holiday season compared to the non-holiday months. Since the fourth quarter is the busiest shopping period of the year, advice your customer support team to be responsive to comments on your social media posts and direct messages you receive. Make sure you set-up all your campaigns in advance in your Como hub to avoid the rush of the holiday season and be able to focus on other unexpected requests.
8. 68% of holiday shoppers said they pay more attention to emails from companies.
More than two-thirds of holiday shoppers (68%) pay attention to emails from companies at this time of the year. Create emails for holiday campaigns using Como's dynamic and user-friendly email builder where you can promote your limited-edition products for Christmas and spread word about your holiday offers.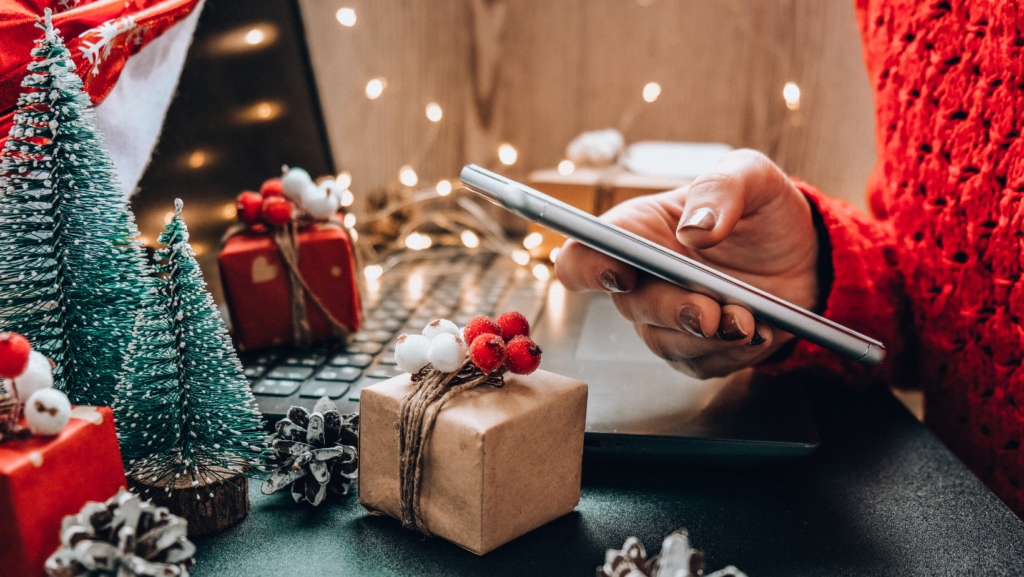 And that's a wrap!
In this fast-changing economy, customer preferences and shopping habits are also changing rapidly. F&B and retail owners must be prepared for an unpredictably chaotic holiday season with the relevant and up-to-date information needed to plan accordingly and succeed.