The month of November marks the beginning of the busiest holiday shopping season. Customers are starting to look for the most attractive promotions and deals brands are offering. Consequently, it is the perfect time for F&B and Retail establishments to increase conversions and boost revenue. What better way to do so than with gamified loyalty campaigns that will wow customers?
Como makes it extremely easy to incorporate gaming mechanics to create an interactive experience that increases customer participation, loyalty, and average spending. With that in mind, check out two kinds of gamification you can leverage with your state-of-the-art loyalty program solution!
Spin the Wheel
Enhance your loyalty program by giving your new and existing customers a chance to spin the wheel and win products and offers you decide to market! Members have the opportunity to win gifts by landing on a segment of the wheel based on probabilities that you can set within Como. Each segment offers different prizes, such as a free item, a discount, or a percentage off the total bill which customers can redeem when they visit your store.
Customize your wheel with your brand's colors and add design elements depending on the holiday or your wheel's theme to cater to a unique experience. As the Christmas season is approaching, you can add Christmas-themed icons and background colors as well as limited edition Christmas items you may be offering!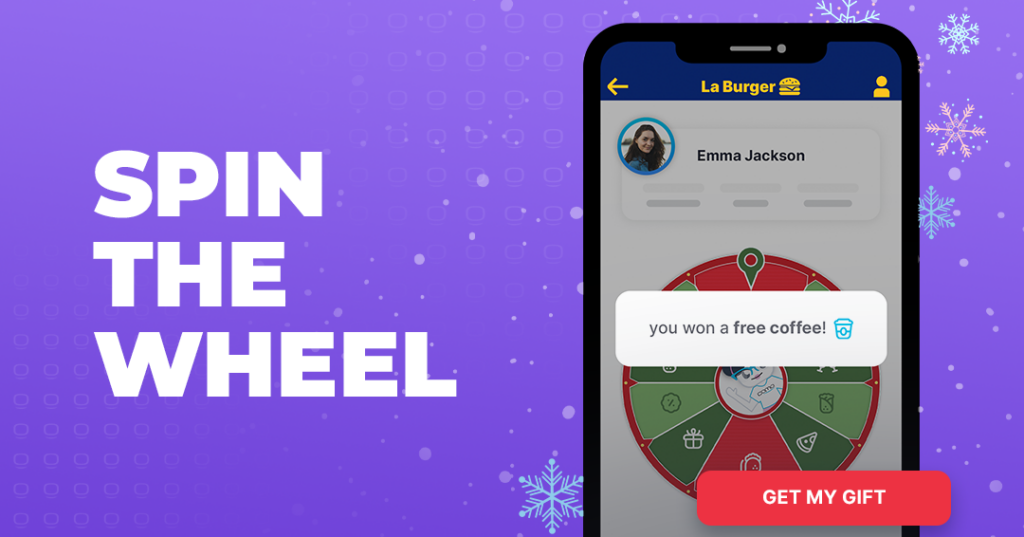 Scratch and Win
The scratch card adds a surprise factor and an interactive feel to the user experience. Additionally, it is easy to set up for your team as well as extremely simple to use on the member's side!
The flow is as easy as 1-2-3: an SMS, email or push notification will be sent to your customers explaining how to claim and redeem their gift, they can click and access the scratch card, scratch their screen and discover their gift! Just like that, generate visits and boost your locations' sales.
Again, gifts can be amount, item or percentage based. Prepare scratch cards you know your customers will be thrilled to discover by using visuals that go well with the holiday season. We look forward to discovering yours!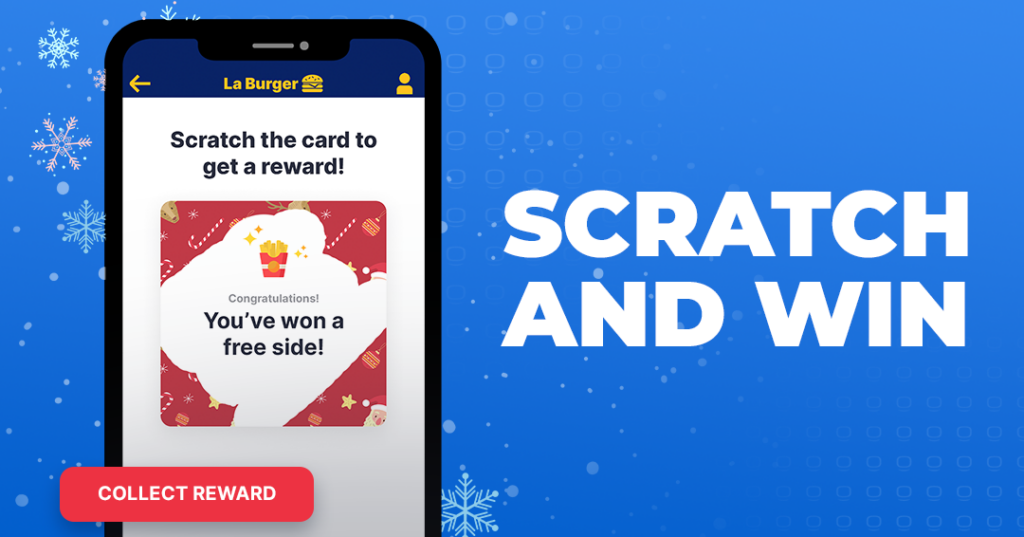 Benefits of Gamified Loyalty Campaigns
1. They improve customer engagement and interaction with your loyalty program
Gamification enables your business to create an exciting and unique way for your members to interact with your brand and products. According to Snipp, brands that incorporate gamification into their customer engagement strategies see a 47% rise in engagement.
2. They encourage positive word of mouth about your brand
A study done by Reflect Digital highlighted that 60% of respondents are more likely to buy from a brand that they have enjoyed playing a game. Satisfied customers will happily share about their positive experience with their family and friends. In addition, they might take it a step further by spreading the word about your loyalty program on social media and thus widen the reach of your campaign above your usual audience.
3. They make your loyalty program stand out from the competition
In an era of customer experience, it is crucial to find ways that will give your business an edge to remain on your customers' mind. Initiatives like a spin the wheel or a scratch and win campaign are not so common among F&B businesses and retailers. These features demonstrate that your brand understands the importance of making the customer experience more fun and appealing. They also have the advantage of including multiple offers at the same time, making sure you can appeal to everyone while testing different discounts to become more knowledgeable on what works best!
Get your head in the game
When done right, gamification reinforces the value of the brand and brings your customers closer to your brand. Encourage your customers to sign up to your loyalty program and download your branded app to take advantage of the fun and exciting prizes they can win!
Want to gamify your loyalty campaigns? Contact us today to get started!