In the highly competitive restaurant industry, customers have a plethora of options to choose from when deciding where to dine or order takeout. To stand out and attract more business, restaurant owners must find ways to differentiate themselves from the competition. One powerful tool at their disposal is their menu.
Recent research by TouchBistro's 2022 Diner Report found that a staggering 84% of restaurant patrons regularly check menus before making a decision to visit a particular establishment. It's clear that menus play a crucial role in customer decision-making, making it essential for restaurant owners to effectively market their menu offerings.
If you're looking to leverage your menu as a marketing tool, here are some tips to help you effectively showcase your offerings and attract more customers.
1. Update your menu regularly
As the culinary landscape evolves, it's crucial for restaurant owners to keep their menus current in order to remain competitive and relevant. One way to stay ahead of the curve is by regularly soliciting feedback from your clients through reviews and surveys, which can provide valuable insights into what they're looking for in their dream restaurant experience.
To further differentiate your restaurant and keep things interesting for your customers, consider introducing limited-time seasonal menus. For example, a special Valentine's Day menu featuring unique dishes, desserts, and drinks can be an effective way to promote the event and drive traffic to your establishment. By analyzing the data from your Como analytics, you can determine which seasonal menu items are most profitable and popular, and consider adding them as permanent fixtures to your menu.
Ensure that your menu updates are reflected across all channels, including your website, delivery apps, and social media platforms, to keep your customers informed so that they always have access to the latest offerings from your restaurant.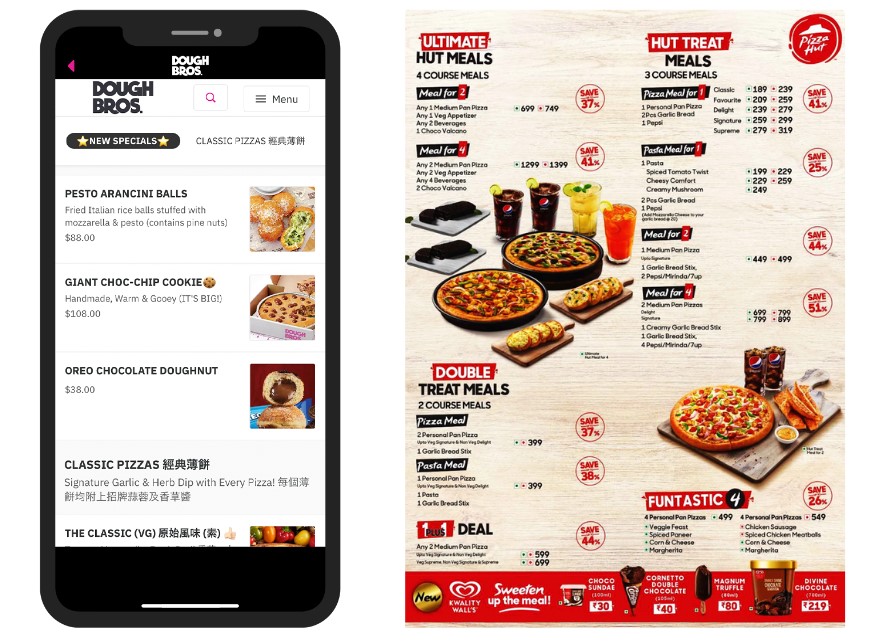 2. Add compelling visuals and descriptions
A menu is more than a list of food and prices – it's a marketing asset that makes your restaurant stand out from the competition. It marks the first impression a customer has of your restaurant so make customers fall in love right away by displaying high-quality photos to generate excitement and tempt diners to open their wallets. A photo-based menu can encourage customers to explore new dishes and make faster decisions.
Aside from your staff's recommendations, menu descriptions will influence what your customers will eventually order in your restaurant. Each of your menu descriptions should be around the same length to help keep your menu organized and consistent. You can include the main ingredients that will ideally paint a picture in your guests' minds about what the dish looks and tastes like. Additionally, it is important to clearly mention any allergies or specific diets that each dish caters to.
3. Showcase menu specials on your social media pages
With 86% of Millennials trying new restaurants based on food-related content they see online, it's essential to leverage the power of social media to showcase your menu and entice customers to visit.
One way to do this is by highlighting daily or weekly specials on your social media accounts and promoting them as limited-time offers. This creates a sense of urgency and encourages customers to visit your restaurant soon. Additionally, you can create a story highlight on Facebook or Instagram that features your menu, making it easy for customers to reference and browse your offerings.
It's also important to respond to customer inquiries and questions about your menu through direct messages or comments on social media posts. Engaging positively with customers can lead to increased visits, with 74% of MGH survey respondents saying they're more likely to visit and order food from establishments which they've had positive interactions with.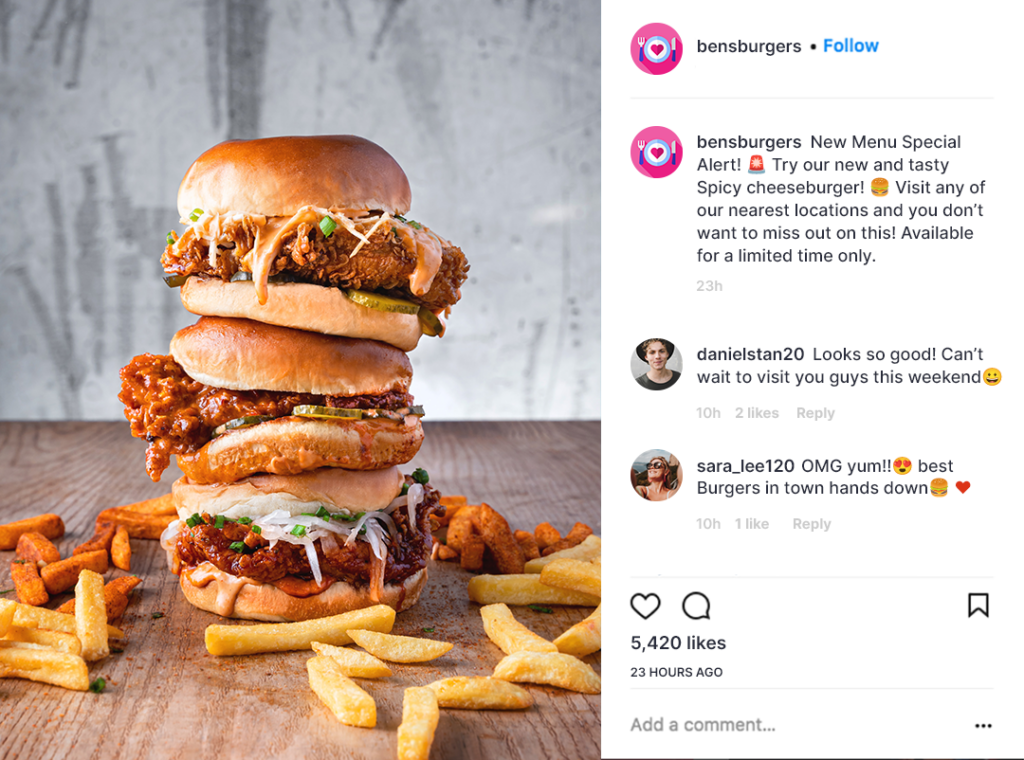 That's a wrap!
A restaurant menu is not just about food, it's the identity of your brand that keeps customers coming back. Use it to build awareness, promote your business, and drive repeat customers.