As days are getting shorter and coffee shops are starting to release their seasonal cups, it's definitely beginning to look a lot like Christmas! Customers are currently busy looking for the "perfect gift" and best holiday promotions.
It's the ideal time to engage existing and new customers by spreading the holiday spirit around! Build stronger relationships by responding to the changing seasons and let your business shine among the rest.
With Christmas just right around the corner, it's time to spruce things up with your marketing campaigns. Get inspired with this advent calendar guide and have your store ready for the most wonderful time of the year!
1. Customize your website and app for the season 
To get everyone in the festive mood, start by dressing up your website with holiday elements and update your App's look and feel directly from your Como dashboard. Upgrade your logo by adding a Santa Claus hat or snowman, add a christmassy touch to your icons or create a holiday banner featuring your promotions or sales for this season!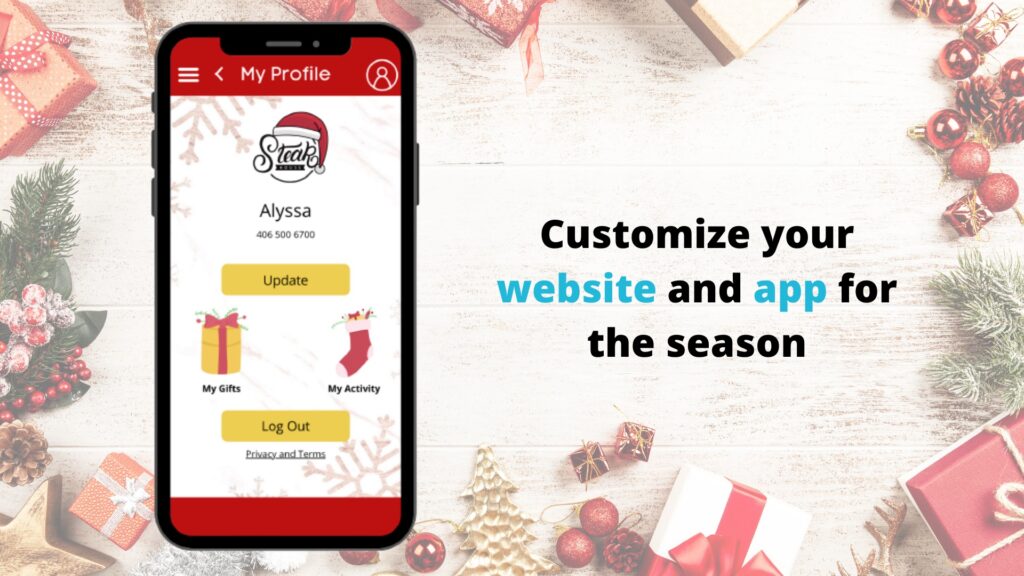 2. Decorate your store 
In a survey conducted by Deloitte, 42% of the consumers choose to shop at brick-and-mortar stores to experience the holiday atmosphere. Revamp your store by adding decorations that match the Christmas vibes—this will invite people to shop for any of their holiday needs in your store.
3. Send out personalized holiday cards 
Remember your loyal customers by sending them a personalized card wishing them happy holidays through email or by posting on your social media page. At the end of the day, it's the thought that counts and your customers will surely appreciate the gesture.
4. Launch a seasonal punch card 
Punch cards are effective to generate repeat purchases and visits from customers because who wouldn't love a freebie? You can easily change the background and colors of your punch card to make it more appealing and exclusive for the holidays! Remind your customers to grab the opportunity and invite them to stop by your store by sending them personalized sms as well.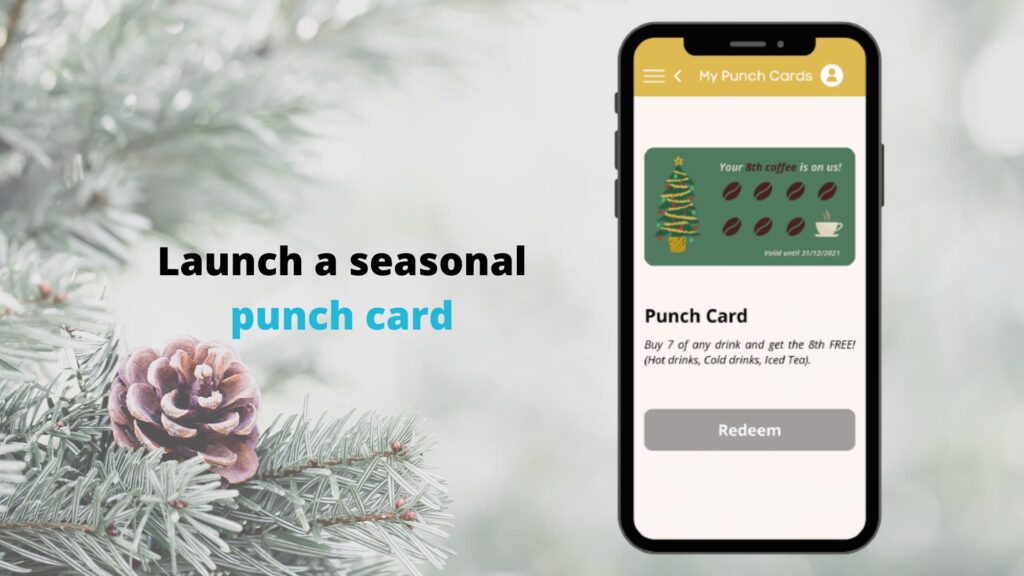 5. Roll out an email campaign 
By using Como's dynamic email builder, send out holiday-themed emails to show that you are in the festive spirit. Thoroughly plan the content of your email campaigns, such as the promotions of your holiday products or flash deals. Write catchy subject lines and use wordings that emphasize on scarcity ("For a limited time only" style) to create a sense of urgency.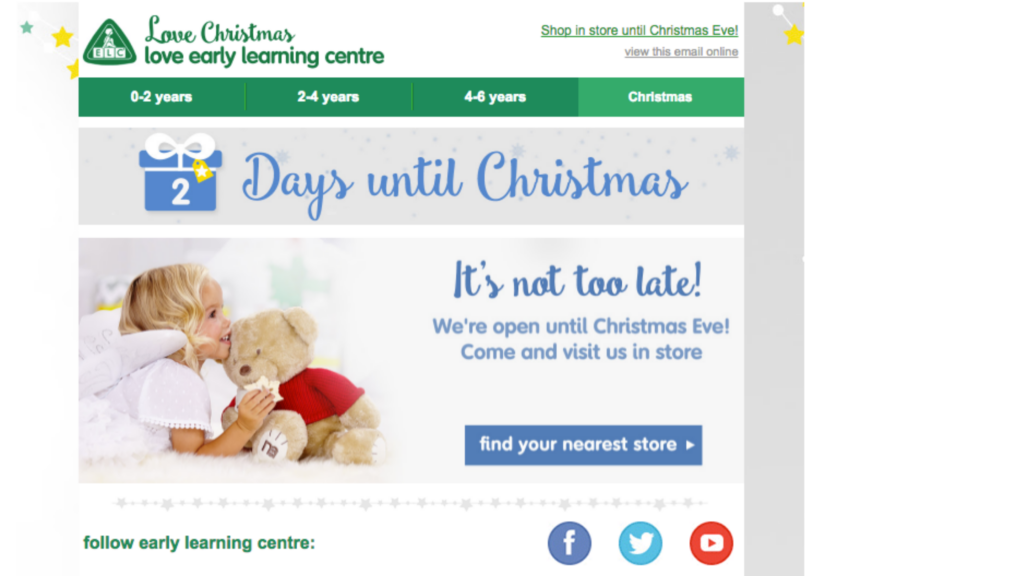 6. Prepare a list of gift suggestions
Looking for the perfect gift is already stressful enough so why not create a gift guide to inspire your customers on what they can give from your store. Assist them in getting through their shopping with ease and this will give you an edge over your competitors.
7. Promote your holiday products on your Points Shop 
Maintain the Christmas spirit by putting your holiday products on your Points Shop for customers to redeem as gifts.  This will encourage them to make repeat purchases and avail the products you've customized for the season. Go back to your usual product offerings once the holidays are over to demonstrate how adaptable your business is. Remind your members to use their points through Como's dynamic push notifications and in-app messages feature, and attach images and call-to-action buttons for higher open and conversion rates.
8. Partner with other brands to expand your audience 
Push for promo codes as these are a great way to collaborate with other businesses and gather more shoppers into your store. Bring additional revenue and new customers as Como's promo codes can be used by non-members as well!
9. Run Christmas-themed gamifications
According to Snipp, brands that include gamification in their customer engagement strategies see a 47% increase in engagement while a 22% increase in brand loyalty. Give your shoppers a memorable experience by encouraging them to join your holiday-themed Scratch and Win or Spin the Wheel as a chance to win gifts.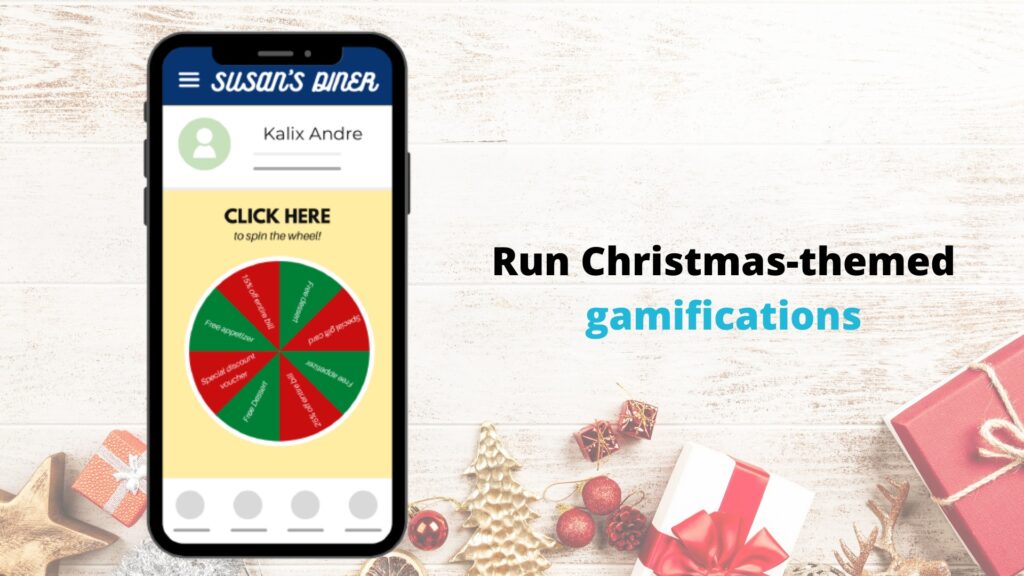 10. Host a giveaway 
The holidays are all about giving and receiving, so why not take advantage to cultivate more loyalty by initiating a giveaway for your customers? You can get shoppers easily excited about your brand and receiving a gift. It will help increase your following on social media as a qualification for them to join the giveaway.
11. Present customers with social media gifts
Add the link on your posts or on your account's description to give your customers a Christmas social media gift. This will encourage them to join your loyalty program and visit your store to claim their gift. As they will be giving their email address, it will be useful for future purposes when sending out email campaigns.
12. Re-engage your Christmas clients with post-holiday offers 
The holiday shopping doesn't just end on the 25th as there are shoppers still looking for last minute promotions and treating themselves with the gift cards they've received. Retain your customers by offering discounts and deals even after Christmas day!
Wrapping it up!
Consistency is key in successfully implementing your marketing strategies—not only during 'tis season, but in any time of the year. Make sure to advertise your 12 days of Christmas campaigns in store, on your social media platforms and in your app as well.
Train your staff so that they are well-informed about the campaigns, promotions and deals you have prepared for the holidays. Meanwhile, when promoting your holiday products on social media or in your app, make use of colors and designs that will have your customers feel the festive spirit. At the end of your campaigns, don't forget to get feedback from your customers through surveys or in-app ratings and reviews.
Grab the opportunity to start planning out your campaigns for each day until the big day arrives and you'll be sleigh-in it! Contact us today and get more information on how to leverage Como's features!
Have your elf a merry little Christmas!